101
Joint Proceedings Hochschule Bremerhaven – Akademia Morska w Gdyni
This special issue of the Scientific Journal is a collection of seven research works by specialists focusing on the commodity and nutrition problems, as well as control methods for electrical machines. The issue also consists one research work covering examples of new approach to the curriculum at maritime universities.
Content of this Journal confirms its interdisciplinary character. It is also a result of joint activities of the University of Applied Science in Bremerhaven and Gdynia Maritime University, and the included papers have been prepared by the researchers representing both universities.
We would like to take the opportunity to thank all authors for their contribution in this undertaking. We also wish to thank all peer reviewers for their valuable work and help in improving the quality of the articles.
Ireneusz Czarnowski
Dieter Lompe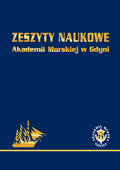 Editor:
Ireneusz CZARNOWSKI
Dieter LOMPE
Papers
Introducing Satellite Remote Sensing to the Curriculum at Maritime University

Attempt to Classify the Yerba Mate According to the Country of Origin Based on Color Parameters

The Transport Stability of Flotation Metal Ore Concentrates which are Liable to Liquefaction

Evaluation of the Quality and Stability of the Storage of Marjoram (Origanum Majorana L.) based on the Characteristics of the Sorption Properties

Application of Hansen Dolubility Parameters to ExtractionProcess of Phenolic Compounds from Chamomile Inflorences

Preliminary Assesment of the Quality of Herbhoneys and Chokeberry Syrups Used for their Production

Eating Behaviors and Physical Activity in Children Aged 7-10 Years